China National Heavy Duty Truck Group Co., Ltd. in Datong Gear, Gearbox heavy vehicles, automobile engine gears, engineering machinery gears specialized research and development, manufacturing and marketing enterprises. During May 1st of 2018, Datong Gear Co., Ltd. was awarded the "May 1st Labor Award of Shanxi Province".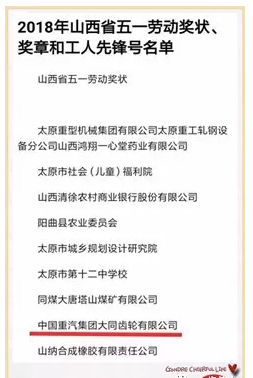 Datong Gear Co., Ltd. won the "May 1st Labor Award of Shanxi Province"

In 2017, Datong Gear Co., Ltd. adhered to the all-dimensional and multi-dimensional learning and implementation of the spirit of the Nineteenth Congress. It integrated Xi Jinping's socialist ideology with Chinese characteristics in the company's production and management practices, vigorously promoted technological transformation and technological progress, and continued to carry out product structure. With the adjustment, the core competitiveness of enterprises has been significantly enhanced, and the scale and efficiency have been greatly improved.

In 2017, the company won the "national civilized unit", "Shanxi Province Quality Award", "high-tech enterprise in Shanxi Province", "the British Jesse Bo company outstanding supplier award", "Dongfeng Commercial Vehicle Company Excellent Supplier Award", "Beiqi "Fukuda cooperation win-win award" and many other awards.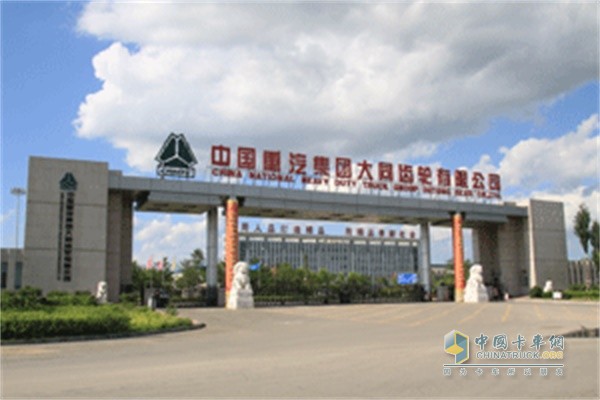 China National Heavy Duty Group Datong Gear Co., Ltd.

Significant increase in business indicators, to achieve great-leap-forward development

In 2017, Datong Gear's sales revenue increased by 64.72% year-on-year, and the tax paid increased by 48.63% year-on-year. The marketing work has achieved breakthrough results, and the sales volume of gearboxes and engine gears have reached new heights. Sales in overseas markets have achieved significant growth. Cummins gear, JCB products, and Mercedes-Benz engine gear sales have reached record highs.

Automatic production continues to upgrade, "Intelligent Manufacturing" achieved initial results

In 2017, we invested in smart manufacturing, added 5 grinding robot automatic loading and unloading systems, and built a new Mitsubishi automatic production line. In particular, the middle casing line of the transmission adopts an internationally advanced flexible manufacturing system, which combines the automatic processing system, the logistics system, the information system, and the software system, resulting in a significant increase in production capacity. Promote the use of wireless transmission systems, collect real-time data on the size of parts processed, and constantly improve the elements of the production line, so that the quality of the production line is steadily improved, and intelligent and intelligent factories are initially built, which helps boost the goal of "accelerating the conversion of new and old kinetic energy and realizing the development of magnificent engineering". Get it done early.

Solidly promote the "five small" competition activities, innovate and improve the achievements of the project

In 2017, the company collected 1,795 proposals for the rationalization of "five small" proposals for staff and workers, and after implementation, the explicit cost savings was 2.588 million yuan. Six employee innovation studios completed 24 projects in the "Five Small" improvement and innovation projects, all of which have been transformed into applications. The comprehensive innovation has reached more than 10 million, of which four innovation achievements have been respectively won in the "Five Small" competition innovation achievements in Shanxi Province. Awards, the company won the "Shanxi Province five small contest activities winning unit" title.

Innovate and increase efficiency, employees share development achievements

In 2017, the per capita income of employees rose by 33% year-on-year. The company invested nearly 50 million yuan to improve the working environment of employees, and invested in research and development funds in advance, laying the foundation for the future development of the company. To carry out the "two things for everyone" campaign, we will go to the chairman of the board of directors at the beginning of each year to establish their own wonderful two-year goals for the current year. At the end of the year, we will grade and award all employees according to the completion status and results; and carry out full-scale QCD improvement activities. Employees shall be rewarded for quarterly and annual awards for outstanding improvement projects; at the same time, employees shall be encouraged to participate in technical research, participate in various types of technical contests, and improve their job skills. Awards shall be given to the winners of the trials, achievements, and competitions.

Deepen enterprise culture, cultivate "artisan spirit" and improve the quality of employees

The company insists on the use of talents in an unconstrained manner to provide employees with access to three channels of management, technology, and professional development. It places special emphasis on nurturing the "artisan spirit" and increasing the sense of professional honor and sense of achievement of skilled workers and skilled personnel. The company currently has 2 national labor models, 1 national labor medal winner, 1 labor model of the national machinery industry, more than a dozen comrades have been awarded the honor of provincial labor models, and another 1 national engineering laboratory and 6 National provincial and municipal innovation studios, which are unique among companies of the same scale. Datong Gear Company has been deeply cultivating its corporate culture, setting up a "workshop auditorium," and inviting leaders such as labor model and innovation studios to preach the course of struggle, summarize successful experiences, and promote the core values ​​of socialism. The model workers lead the workers' professional awe and professional pride. Everyone advocates the practice of craftsmanship and creates a culture of excellence.

Readings:

Electric Thruster, Boat Thruster, Stern Thruster, Mercury Thruster, Mercury Thruster Trolling Motor

Ningbo Haibo Group Co.,Ltd. , http://www.hbtrollingmotors.com