Model NO.: FD30

Lift height: 3000~5000mm

Condition: New

Hydraulic Pumps: Shimadzu Made in Japan

Multitandem Valves: Shimadzu Made in Japan

Engine: Optional Isuzu Yanmar Nissan Engine

Mast: 3m to 7m Reach

Tires: Pneumatic or Solid

Cabin: with A/C and Heater

Transmission: Automatic

Color: Customize for You

Attachment: VIP Solution

Overhead Guard: Waterproof

Trademark: SNSC

Transport Package: Nude Packaging

Specification: 2390*1410*2155Mm

Origin: China(Mainland)

HS Code: 8427109000

Model NO.: FD30

Lift height: 3000~5000mm

Condition: New

Hydraulic Pumps: Shimadzu Made in Japan

Multitandem Valves: Shimadzu Made in Japan

Engine: Optional Isuzu Yanmar Nissan Engine

Mast: 3m to 7m Reach

Tires: Pneumatic or Solid

Cabin: with A/C and Heater

Transmission: Automatic

Color: Customize for You

Attachment: VIP Solution

Overhead Guard: Waterproof

Trademark: SNSC

Transport Package: Nude Packaging

Specification: 2390*1410*2155Mm

Origin: China(Mainland)

HS Code: 8427109000

New China ISIZU Engine Mini 4T Diesel Forklift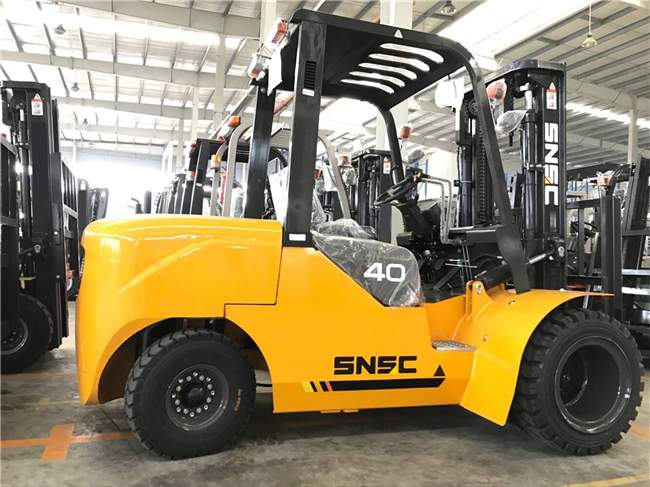 Specifications of 3T Diesel Forklift
No.
Specifications
Uint
FD40
1
Characteristics
Power
 
Diesel
2
Rated Capacity
kg
4000
3
Center of load
mm
500
4
Lifting height
mm
3000
5
Free lifting height
mm
85
6
Forks L×W×H
mm
1070x125x50
7
Tilt Forward/Backward
.
6/12
8
Min.turning radius
mm
2700
9
Min.ground clearance(Mast)
mm
120
10
Overhead guard height
mm
2090
11
Height from seat to overhead guard
mm
1005
12
Front overhang
mm
500
13
Perf
Max.traveling speed(loaded)
km/h
19.5
14
Max.lifting speed(loaded/empty)
mm/s
415/440
15
Drawbar pull/Gradeability
kN/%
20/20
16
Dimensions
Overall length (without fork)
mm
2930
17
Overall width
mm
1410
18
Mast lowered height 
mm
2155
19
Mast extended height
mm
4275
20
Chassis
Tire
Front
 
250-15-16PR
21
Rear
 
6.50-10-10PR
22
Wheelbase
mm
1900
23
Tread width
Front/Rear
mm
1160/1065
24
Curb weight
None-load
kg
5300
25
Powertrain
Battery
Voltage/Capacity
V/Ah
12/90
26
Engine
Model
 
Xinchai 498BPG
27
Rated power
kw/r.p.m
45/2500
28
Rated torque
Nm/r.p.m
193/1600-1800
29
Cylinder amount
 
4
30
Bore×Stroke 
mm
98x105
31
Displacement
L
3.168
32
Engine
Model
 
ISUZUÂ 4JG2PE
33
Rated power
kw/r.p.m
44.9/2450
34
Rated torque
Nm/r.p.m
184.7/1700
35
Cylinder amount
 
4
36
Bore×Stroke 
mm
95.4*107
37
Displacement
L
3.059
38
Fuel tank
L
80
39
Transmission
 
1/1Â Powershift
40
Working pressure
MPa
17.5
Configurations of 4T Forklift on Photos

4T Diesel Forklift, Japan ISUZU 4JG2PEÂ Engine, Block Clamps

Solid Tires, Side Shifter Fuction,USA Eaton Redirector

Japan Shimadzu Hydraulic Pump and Multitandem Valves


Search Mariah Tang Forklift on YouTube, Many VIDEO for your review.
Call me 0086 159 6606 0602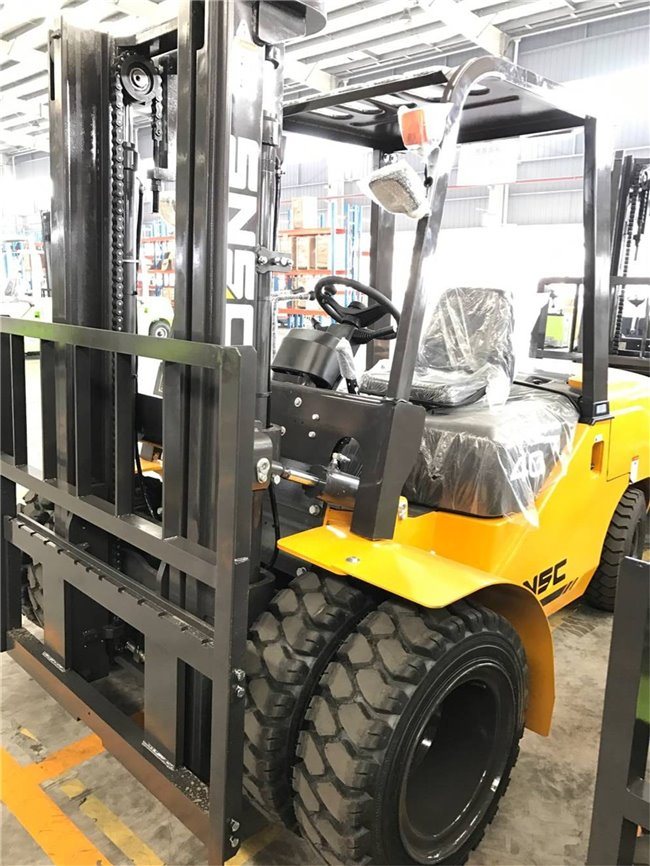 Configurations On Your Forklift

 
SNSC Forklift Standard Configurations 
Hydraulic System Pumps&Multitandem Valves
Shimadzu - made in Japan 
Steering Gear (Redirector)
EATON made in America
Lamps 
(steering lamp,revers light,front/rear lamp)
All LED Lamps
Lamp Guard
Protect lamps at any moment
Radiator Assy
Copper material 
Cylinder Dust Cover 
Prevent dust during cylinder work
Overhead Guard 
Ramjet Waterproof 
Three-pivot Wide-angle Rearview Mirror
Angel View
 
SNSC VIP Customize&Design for Your Work Condition, Optional
Engine (made in Japan)
ISUZU, Yanmar, Mitsubishi, Nissan
Special Engine for USA market 
PSI, Konler (EPA Certificates)
Mast 3m to 7m lifting, 2-stage&3-stages
3-stages full free mast for indide container 
Solid Tires 
prolong service life 
Double Front Tires
increase stability, design for higher lifting height 
Fork Length
customize according to pallet size in local
Fork Sleeves 
help one forklift service different pallets,high-efficiency
Backrest Dimension
customize for Empty Lifting Container
Side Shifter Function 
to adjust fork more convernient to aim at pallet faster
Cabin for special climate country/area
A/C(cool)&Heater(hot) for your choice
Color&Logo 
absolutely meet your requirements
Double Filter 
design for dusty work condition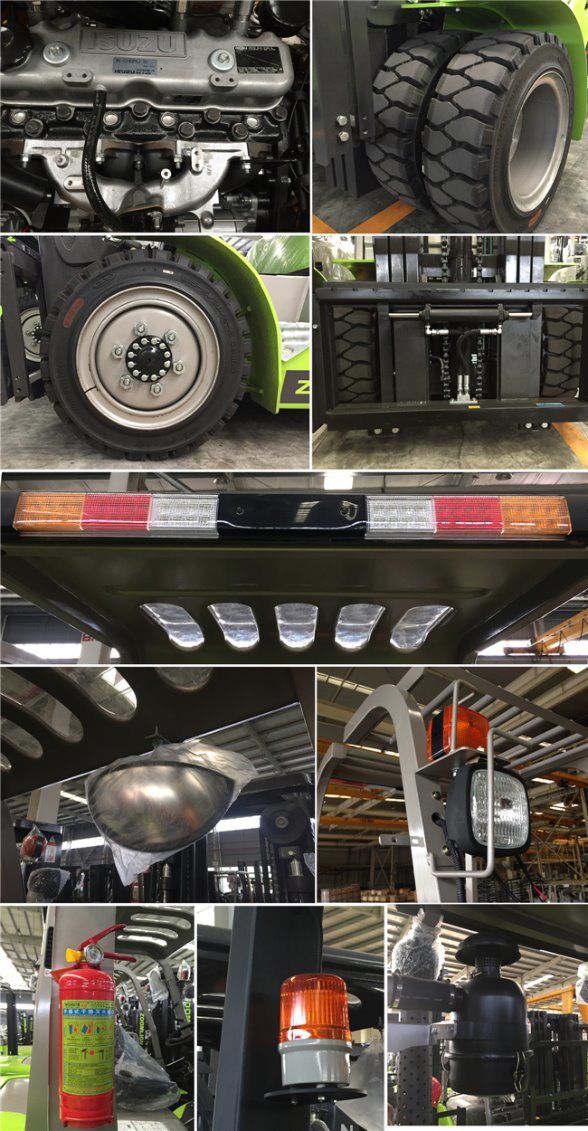 SNSC Forklift Service

1.Certificates
all our Forklift have passed all kinds of international certificates, such as?CE, ISO, GHOST Certificates.Forklifts' Quality definitely guaranteed.


2.Clearance Custom Documents
we have professional experienced operator to prepare special documents according to your country custom,such as CIQ,SASO,CCPIT CI,EPA...


3.Spare Parts
professional engineer solve questions with you together,confirm telephone,photos,video and directly video on wechat to confirm exact problem, then express parts by DHL, arrive at your hands within 3 days.


4.Maintenance&Repair Manual
attach manuals with forklift together for you and workers review. 

 


SNSC Factory Production Line & Strict Trial

. professional technology workers preparing mini parts from steel plate
. welding robot & workers' technology for oil tank and other details on forklift
. every parts,frame passed six times paint,finish bright color
. quality department do tires,mast angel,brake line,climbing,lifting trial running
. Please check VIDEO on YOUTUBE, search Mariah Tang Forklift.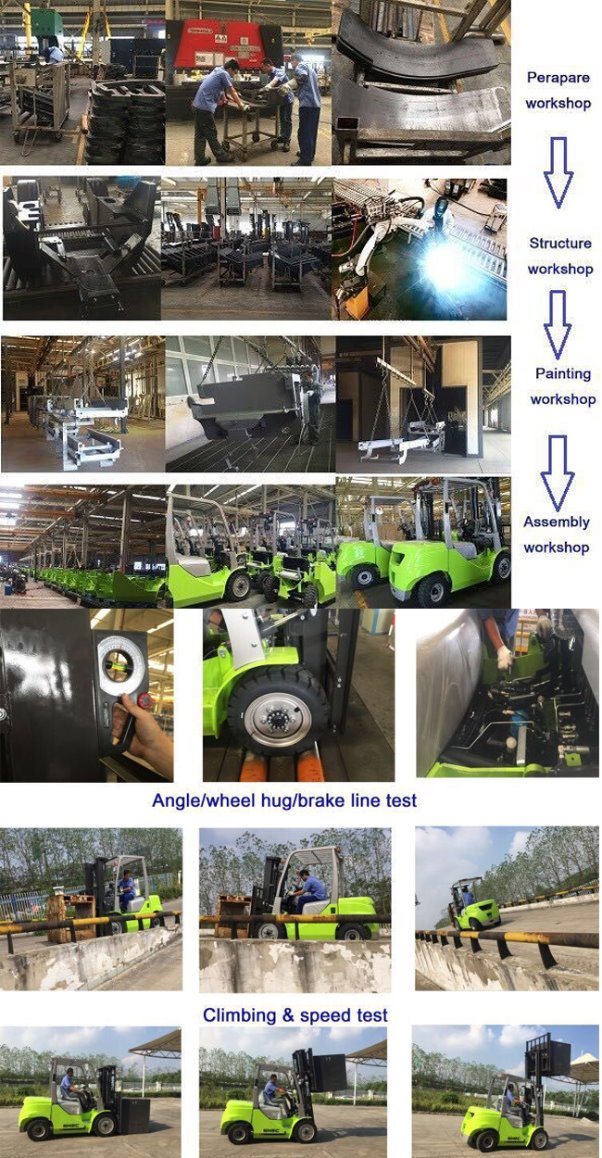 Packaging & Shipping
Tool Box, Forklift Catalogue, Gloves, Manuals of Operation and Maintenance, Fork, Spare Parts, we will send with forklift together.

For 3 Tons Diesel Forklift,shipping terms depends on quantity.?

1 Set we choose LCL( less than container load)Â  in Shanghai Port;

2 Sets and More, we choose shipping by Container.?

20'GP can hold 2 Sets, ?40'GP can hold 4 Sets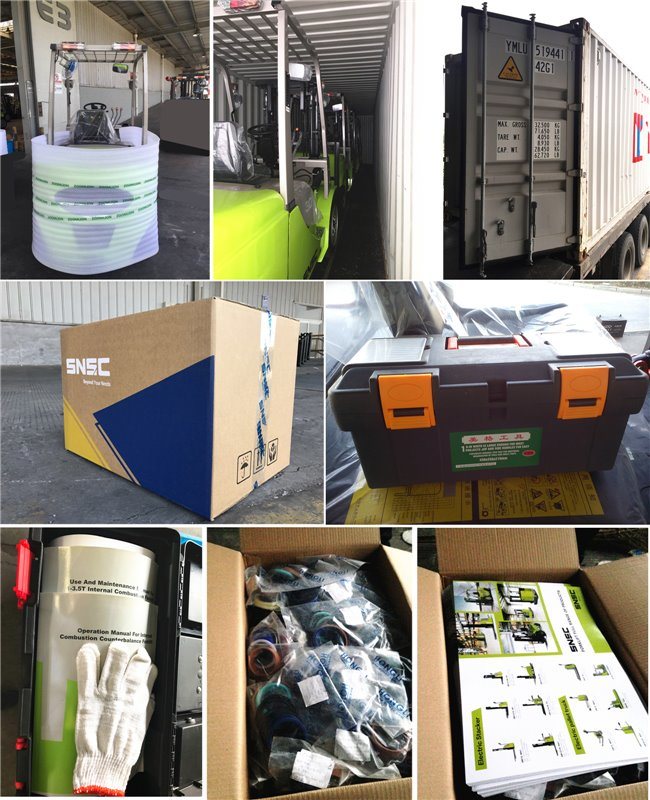 FAQ
1.Which countries do we export to?
Asia: Vietnam, India, Indonesia, Pakistan, Kazakhstan, Uzbekistan, etc.
Europe: Russia, Belarus, Ukraine, Lithuania, Saudi Arabia, etc.?
South America: Brazil, Chile, Paraguay, Argentina, etc.
Africa: South Africa, Ethiopia, Libya, etc.?


2.What are our advantages compared with other manufacturers/factories?
1)Reliable Quality: Carefully select regular manufacturers for supporting spare parts, like engines, bridge, transmissions, and many parts designed and produced by ourselves, always adapting the best materials.?
2)Competitive Price: Concentration of mechanized production in large quantities reduce production costs to ensure that our price is competitive.
3)Service Team: First, our sales managers are working 24 hours one day, ready to answer your questions at any time. Second, professional maintenance team with senior technicians, ready to provide support services to users and dealers. Most problems can be solved within 24 hours.
4)Fast Delivery: Under normal circumstances, we can delivery with 10 working days in factory after receiving pre-payment.?


3.Which payment terms can we accept?
Normally we can work on T/T or L/C.
1)On T/T term, 30% payment is required in advance for production, 70% balance shall be paid before delivery or against the copy of original B/L for old long cooperation clients.
2)On L/C term, 100% irrevocable L/C at sight without "soft clauses" can be accepted.?


4.Which INCOTERMS 2010 we can work?
As a professional experienced supplier, we can handle all INCOTERMS 2010 terms, and we normally work on FOB, CFR, CIF, DAP, FCA, EXW etc.


5.What logistics ways we can work for delivery?
1) For most Europe, South America and Africa etc. countries we can go by container or Roro through ocean freight.?
2) For neighborhood countries of China, such as Russia, Vietnam, Kazakhstan, Uzbekistan etc. we can delivery by road or railway.
3) For light spare parts in urgent requirement, we can send it by international courier service, such as DHL, TNT, EMS or other air transportation.?


6.How long is the validity of our quotation?
As a reliable supplier, basically our price remains stable through one year, we only adjust our price based on two situations:
1)The rate of USD
2)The price of material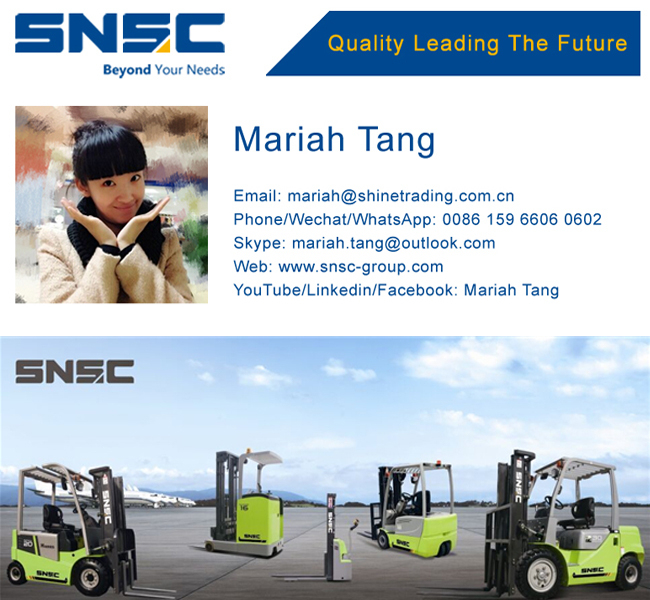 SNSC Forklift Range

1.Diesel Forklift Truck Range from 1 to 10tons;Â Â Â  (FD30,FD35,FD40,FD45,FD50,FD60,FD70)

2.Electric Forklift Truck Range from 1.5 to 3.5tons; (FB15, FB20, FB25, FB30, FB35)

3.LPG&Gasoline Forklifts Range from 1.5 to 3.5tons; (FL15, FL20, FL25, FL30, FL35)

4.Warehouse Logistic Forklift 1 to 3tons Reach Truck / Pallet Truck / Stacker ; (YB16,YB20,DB16,DB20)


VIDEO Mariah Tang Forklift on YouTube
CALL ME 0086 159 6606 0602

New China ISIZU Engine Mini 4T Diesel Forklift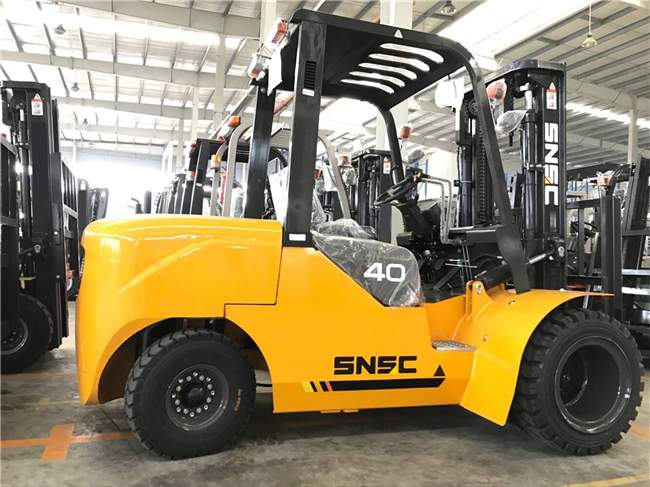 Specifications of 3T Diesel Forklift
No.
Specifications
Uint
FD40
1
Characteristics
Power
 
Diesel
2
Rated Capacity
kg
4000
3
Center of load
mm
500
4
Lifting height
mm
3000
5
Free lifting height
mm
85
6
Forks L×W×H
mm
1070x125x50
7
Tilt Forward/Backward
.
6/12
8
Min.turning radius
mm
2700
9
Min.ground clearance(Mast)
mm
120
10
Overhead guard height
mm
2090
11
Height from seat to overhead guard
mm
1005
12
Front overhang
mm
500
13
Perf
Max.traveling speed(loaded)
km/h
19.5
14
Max.lifting speed(loaded/empty)
mm/s
415/440
15
Drawbar pull/Gradeability
kN/%
20/20
16
Dimensions
Overall length (without fork)
mm
2930
17
Overall width
mm
1410
18
Mast lowered height 
mm
2155
19
Mast extended height
mm
4275
20
Chassis
Tire
Front
 
250-15-16PR
21
Rear
 
6.50-10-10PR
22
Wheelbase
mm
1900
23
Tread width
Front/Rear
mm
1160/1065
24
Curb weight
None-load
kg
5300
25
Powertrain
Battery
Voltage/Capacity
V/Ah
12/90
26
Engine
Model
 
Xinchai 498BPG
27
Rated power
kw/r.p.m
45/2500
28
Rated torque
Nm/r.p.m
193/1600-1800
29
Cylinder amount
 
4
30
Bore×Stroke 
mm
98x105
31
Displacement
L
3.168
32
Engine
Model
 
ISUZUÂ 4JG2PE
33
Rated power
kw/r.p.m
44.9/2450
34
Rated torque
Nm/r.p.m
184.7/1700
35
Cylinder amount
 
4
36
Bore×Stroke 
mm
95.4*107
37
Displacement
L
3.059
38
Fuel tank
L
80
39
Transmission
 
1/1Â Powershift
40
Working pressure
MPa
17.5
Configurations of 4T Forklift on Photos

4T Diesel Forklift, Japan ISUZU 4JG2PEÂ Engine, Block Clamps

Solid Tires, Side Shifter Fuction,USA Eaton Redirector

Japan Shimadzu Hydraulic Pump and Multitandem Valves


Search Mariah Tang Forklift on YouTube, Many VIDEO for your review.
Call me 0086 159 6606 0602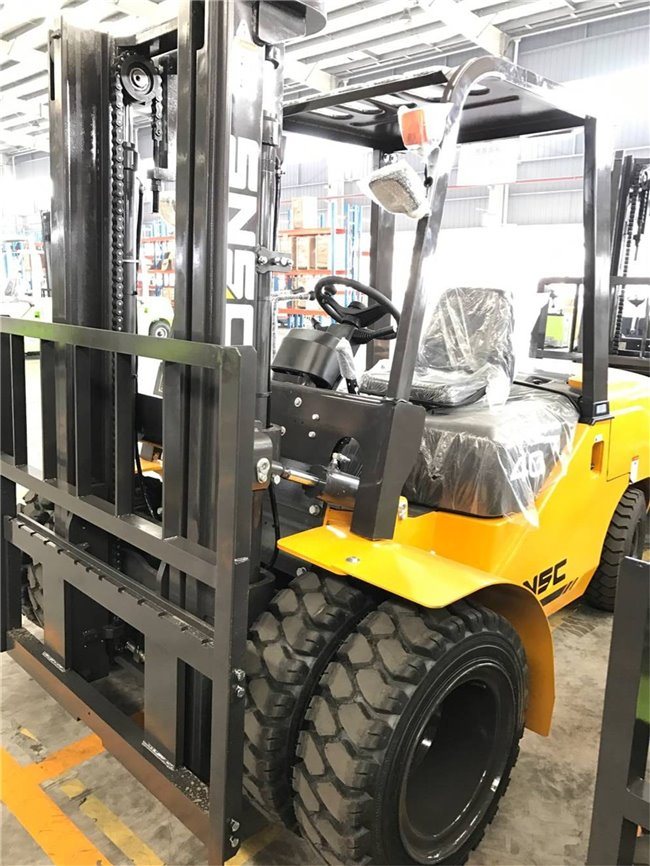 Configurations On Your Forklift

 
SNSC Forklift Standard Configurations 
Hydraulic System Pumps&Multitandem Valves
Shimadzu - made in Japan 
Steering Gear (Redirector)
EATON made in America
Lamps 
(steering lamp,revers light,front/rear lamp)
All LED Lamps
Lamp Guard
Protect lamps at any moment
Radiator Assy
Copper material 
Cylinder Dust Cover 
Prevent dust during cylinder work
Overhead Guard 
Ramjet Waterproof 
Three-pivot Wide-angle Rearview Mirror
Angel View
 
SNSC VIP Customize&Design for Your Work Condition, Optional
Engine (made in Japan)
ISUZU, Yanmar, Mitsubishi, Nissan
Special Engine for USA market 
PSI, Konler (EPA Certificates)
Mast 3m to 7m lifting, 2-stage&3-stages
3-stages full free mast for indide container 
Solid Tires 
prolong service life 
Double Front Tires
increase stability, design for higher lifting height 
Fork Length
customize according to pallet size in local
Fork Sleeves 
help one forklift service different pallets,high-efficiency
Backrest Dimension
customize for Empty Lifting Container
Side Shifter Function 
to adjust fork more convernient to aim at pallet faster
Cabin for special climate country/area
A/C(cool)&Heater(hot) for your choice
Color&Logo 
absolutely meet your requirements
Double Filter 
design for dusty work condition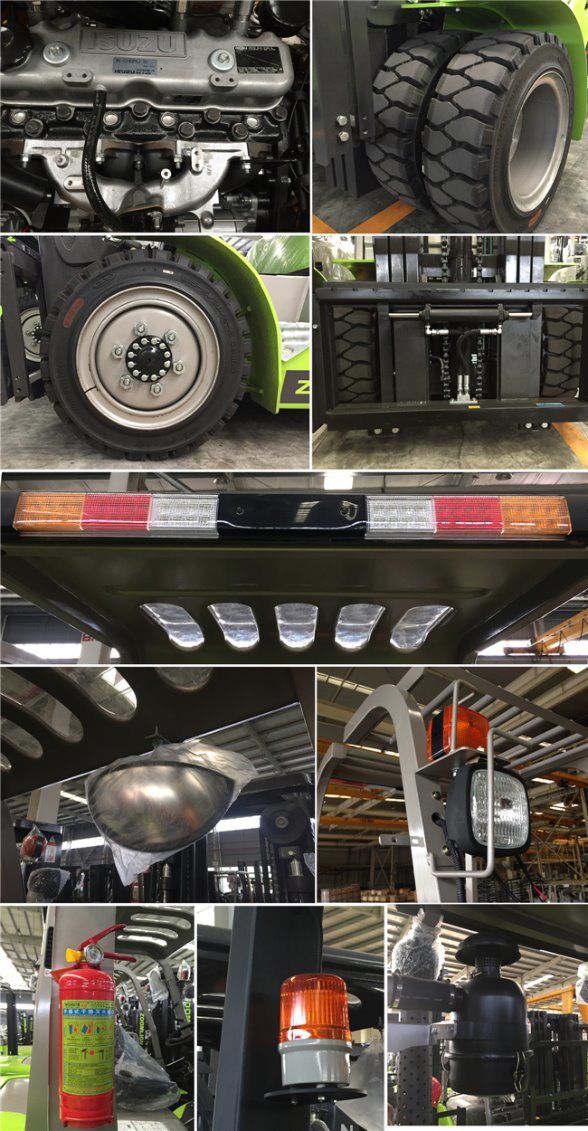 SNSC Forklift Service

1.Certificates
all our Forklift have passed all kinds of international certificates, such as?CE, ISO, GHOST Certificates.Forklifts' Quality definitely guaranteed.


2.Clearance Custom Documents
we have professional experienced operator to prepare special documents according to your country custom,such as CIQ,SASO,CCPIT CI,EPA...


3.Spare Parts
professional engineer solve questions with you together,confirm telephone,photos,video and directly video on wechat to confirm exact problem, then express parts by DHL, arrive at your hands within 3 days.


4.Maintenance&Repair Manual
attach manuals with forklift together for you and workers review. 

 

<

Auto electronics

Guangzhou Ruicheng Enterprise Services Co., Ltd. , https://www.rayparts.cn